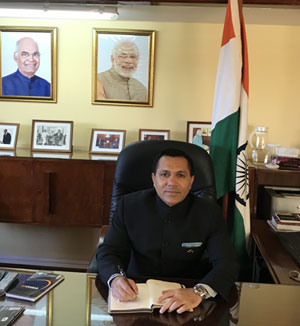 Mr. Rajeev Kumar
High Commissioner
Mr. Rajeev Kumar is the Indian High Commissioner to Mozambique. He arrived in Maputo on August 10, 2019. Prior to this, he was the Indian Ambassador to Senegal, The Gambia, Guinea Bissau and Cabo Verde from January 2016 until August 2019.
He was the Deputy Chief of Mission in Brasilia from May 2015 – December 2015. He also held the post of Counsellor in Embassy of India, Rome, from October 2011 until April 2015 where, among many diplomatic responsibilities, he held the position of APR to Food & Agriculture Organization (FAO), World Food Programme (WFP) and IFAD.
He started his diplomatic career in 2001. He holds degrees in both Economics and Law.
Development Diplomacy is his favourite area.
Apart from knowing a few Indian languages including English, he is fluent in Portuguese, French and Italian. He has working knowledge in Spanish.
O Sr. Rajeev Kumar é o Alto Comissário da índia em Moçambique. Ele chegou a Maputo no dia 10 de agosto de 2019. Antes desta nomeação, ele foi Embaixador da índia para Senegal, Gâmbia, Guiné Bissau e Cabo Verde, de janeiro de 2016 até agosto de 2019.
Ele foi o Chefe Adjunto da Missão em Brasília, de maio de 2015 – dezembro de 2015. Ele também exerceu o cargo de Conselheiro na Embaixada da índia em Roma, de Outubro de 2011 até abril de 2015, onde, dentre muitas responsabilidades diplomáticas, exerceu o cargo de APR para a Organização das Nações Unidas para a Agricultura e Alimentação (FAO), Programa Mundial de Alimentação (WFP) e IFAD.
Diplomacia de Desenvolvimento é a sua área preferida.
Para além de conhecer algumas línguas indianas, incluindo Inglês, ele é fluente em Português, Francês e Italiano. Ele também tem conhecimento de trabalho em Espanhol.